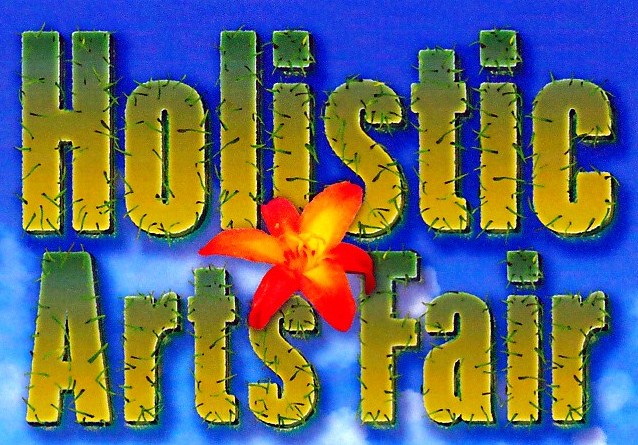 http://philosopherswheel.com/haf.htm
Please update your records if needed.
---
The Holistic Arts Fair is a health, psychic, spiritual and visionary art fair all in one.

An art, health and spirit fair
The Arts of being and becoming Whole!

(some people spell it wholistic)

The next fair is tentatively scheduled for Sept.23 and 24, 2017

Admission is free to the Fair and all its events.
What's happening at the Fair
Application for exhibit space in 2017
---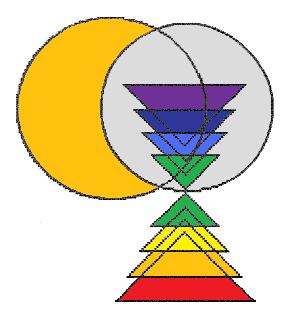 Presented by the Holistic Arts Fair Association
Click here for an explanation of our logo
The Holistic Arts Fair is a great opportunity to experience many ways to transform your life.
It features exhibits, lectures, workshops and music on such topics as alternative health services and products, spirituality and metaphysics, psychic awareness, spiritual healing, visionary arts and music, and community organizations dedicated to peace and planetary evolution.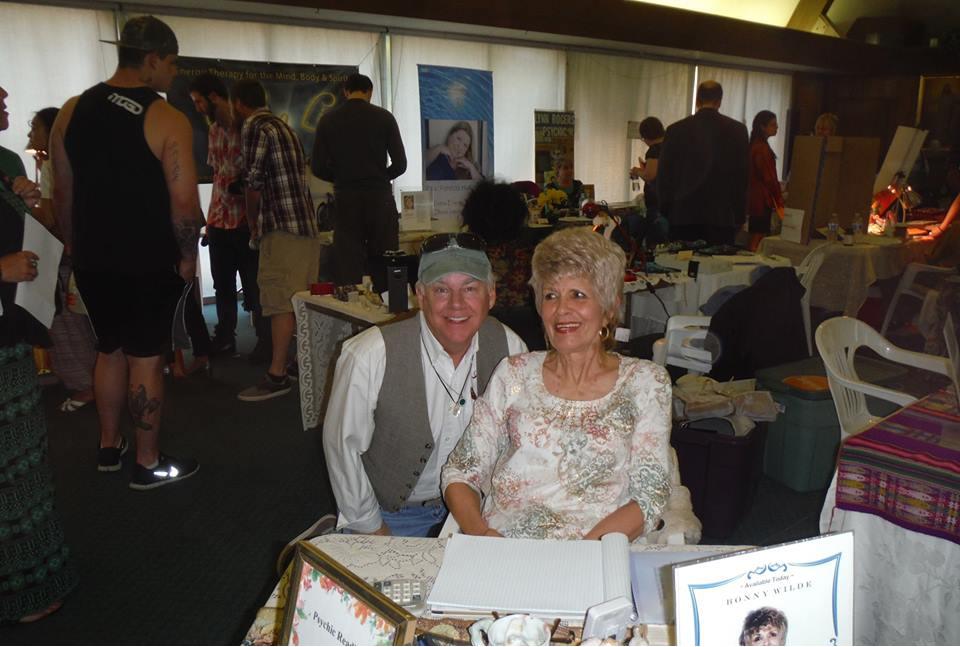 In center: Robert Perala and reader Bonny Wilde
The Fair for 2017 is tentatively scheduled for Sept.23-24 at Community of Infinite Spirit (formerly called Divine Science Community Center) at 1540 Hicks Ave. in San Jose. (not Hicks Road!!)
Above is a view from the back patio at Community of Infinite Spirit.
Below is a picture of our banner for 2014, and the new sign out front for Community of Infinite Spirit: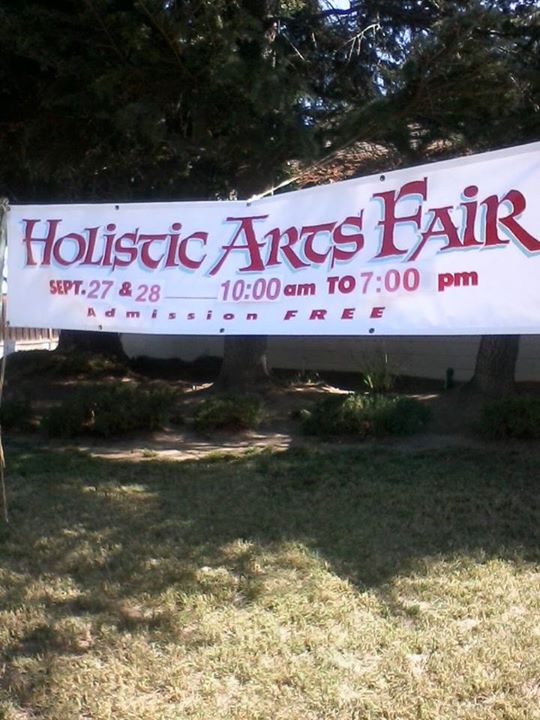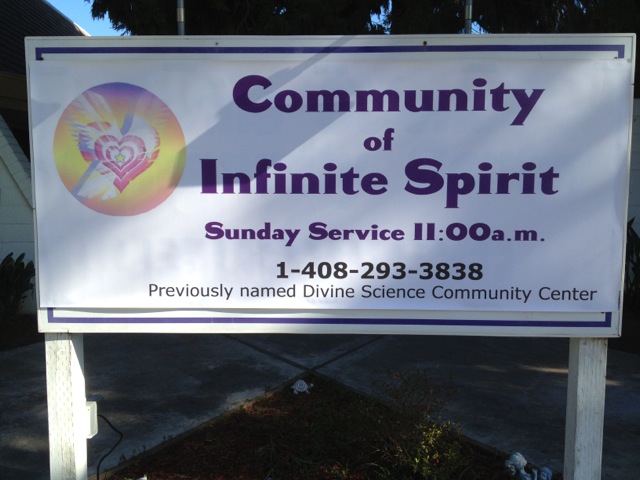 Hours are 10 AM to 8 PM on Saturday Sept.23, and 10 AM to 7 PM on Sunday, Sept.24
Admission Free
At the Holistic Arts Fair, you can purchase readings and healings, health products, exciting crafts and visionary art, and get lots of free resources and info on metaphysics, spirituality, peace, and ways to transform yourself and your world.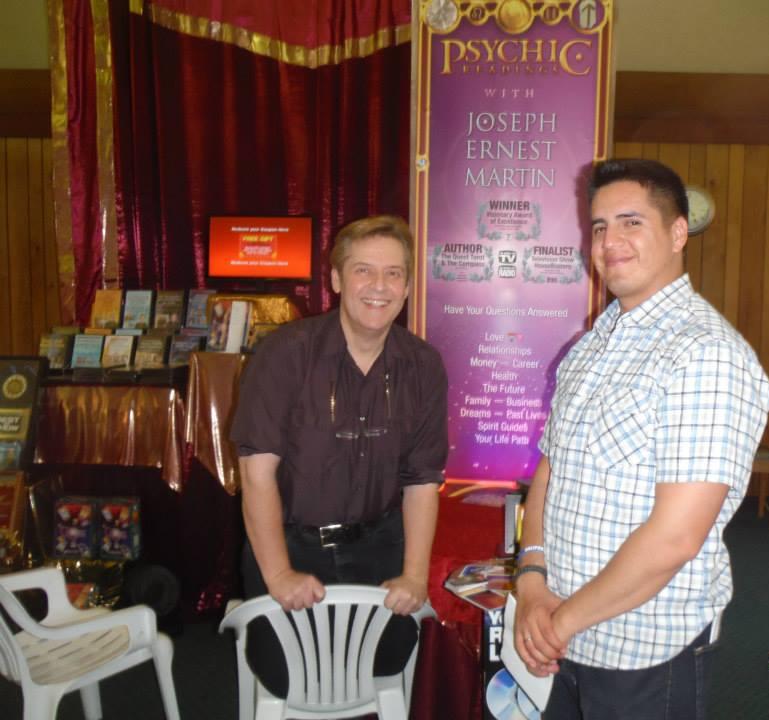 Tarot and psychic reader Joseph Martin with Holistic Arts Fair volunteer and hypnotherapist Rich Rios
As always, remember to visit exhibits on the back patio, and out front along Hicks Ave, as well as in the courtyard along the sanctuary, and inside the sanctuary. See Nurse Pam inside the bookstore (classroom/fireside building). Don't miss our special silent auction.
Click HERE for a partial listing of exhibitors at the Fair in 2016 (Sept.24-25).

We will have about 60 exhibitors, and a dozen free lectures, performances and workshops. We also present a special Crystal Bowls Meditation event with Ed Simon (pictured below).
Admission is always FREE to the Holistic Arts Fair and all its events, and there is FREE PARKING (come early; parking is limited in our lot in back).
The event coincides roughly each year with the Fall Equinox, a sacred time in many cultures when all energies and forces are in balance.
The Fair runs Saturday from 10 AM until about 8 PM, and on Sunday until about 7 PM. Some exhibitors go home before 8 PM though, so arrive at least by 4 PM to give yourself enough time to see them. Park along Hicks Ave. and do not block driveways.



Speakers, workshops and concerts in 2016
Here is the schedule of events for 2016 (schedule for 2017 will be posted later). All events are FREE. Schedules are also available at the Fair, and on our flyers which you can pick up in Sept. at local libraries and stores. All lectures, music and workshop are held in the classroom, on your right as you enter fhe Fair from Hicks Ave. (or on your left as you enter from the parking lot). (tent. means tentative and subject to change)
Saturday Sept.24, 2016
10 AM: Quli Zhou, professor of Chinese medicine and practitioner at Eternal Health and Wellness, speaks on the "Natural Solution for Pain, Stress and Allergies." Come learn simple, but practical and effective ways to relieve stress and pain, strengthen immune function and improve overall health and wellbeing.
10:30 AM: Darwin Keith Rector of Spiritual Unfoldment Network provides information about healing, meditation, subtle energies and spiritual advancement. There are powerful spiritual systems that can help you reach your goals more effectively and efficiently.
11 AM: Pat Duran speaks on "There's more to Gratitude than Keeping a Journal." We've all heard that gratitude is a virtue. But it's so much more than that! Come hear about the way gratitude can benefit your emotions, personality, health, social life and even career. And learn how to be grateful for more than just the good stuff.
12 Noon to 2 PM: Meir Schneider presents one of his popular Yoga for Your Eyes workshops. The full title this year is "Overcoming Vision Problems and Degenerative Eye Diseases." Meir is director of the Center for Self-Healing. 2 hours.
2 PM: Sondra Sneed, Godscribe, presents "A Source Talk: I Don't Know Who I Am." When you are unsure of what you are, the Self is phantasm. When you do know, the Self is the most powerful aspect of your nature. The question "What Am I" is delivered to Source in a way that identifies the Self. Find clues on how to assemble your identity and understand once and for all why it's so darn important to know, "What Am I?" Source communicator and soul reader, Sondra Sneed travels extensively to bring purpose to the minds and hearts of people everywhere. She delivers direct information from the being we call God/Universe/Source.
3 PM: Cynthia Starborn on "Touched by Grace." Join Cynthia Starborn, co-author of "365 Moments of Grace," for inspirational stories and a guided meditation to help you bring more ease and grace into your life..
4 PM: Liza Miron speaks on "Family Constellations: healing the past for a better future." When our ancestors leave issues unfinished in their lives, someone else in the Family System will carry those issues, unconsciously. How do we know we aren't carrying hidden and limiting issues from our ancestors, such as illness, depression, or personal, relationship or professional failure? Come and learn how to start this healing process in order to live with more joy, abundance, health, love and success.
5 PM: Renita Zies of Health fx will talk about electro-dermal testing, homeopathy, and wellness, by identifying causes for disease.
6 PM: Ed Simon, Crystal Bowls Meditation. Soothe and awaken your soul and tune into higher consciousness with resonant sounds, correlated to your own inner frequencies.
7 PM: Christine Owen on "When the Going Gets Rough: Being Prepared for Disasters." Current wildfires and potential earthquakes are a wake up call to lightworkers to be prepared. Christine will demonstrate a soul-healing modality that offers a strong foundation and a way to serve when the going gets rough.
Sunday Sept.25, 2016
10 AM: Paul Barbaro, massage therapist and metaphysical philosopher. Heart to Heart Healing
11 AM: Rev. Christine of Community of Infinite Spirit provides an illuminating and liberating chakra meditation.
12 Noon: Shirani Pathak presents a talk entitled "From Self-love to True-Love: Creating Deeply Fulfilling Relationships." Do you know the most important ingredient to health relationships? It's YOU! Every single relationship you have always starts with you. Women especially, but others too, often fall into the trap of thinking we need to take care of others first, so much so that we have little left for ourselves. This leaves us depleted, and if we engage in this habit repeatedly, we are at a severe risk of burnout. At this event you will learn about the 4 essential ingredients to healthy relationships: self-love, self-care, authenticity and communication. We will also touch on soul agreements, and on how we can move from a victim state into a more empowered space in our relationships.
1 PM: Scout Bartlett on "Aligning Energy with your True Life Path." Ever felt pulled in opposite directions inside, or recognized parts of you were on your side while other parts held you back or sabotaged those intentions? All of us have a core flow of life-force energy, and between trauma, drama, and karma, that core beam becomes bent and constricted into patterns that play out in our lives. Experience your energy flow coming back into alignment with your true path. Scout Bartlett, a natural-born clairsentient, is the founder of Life Insights, which offers trainings of "Higher Learning." Both the clarity and wit with which Scout presents his life insights have benefited thousands of individuals.
2 PM: Bernd Friedlander speaks on "Life Extension." Aging is simply the wear and tear of our cells, and the lack of cell communication to repair and regenerate. Dr. Friedlander provides information on promoting quality of life, extending life span, and controlling diseases through diet and exercise. Through providing yourself with the right kinds of proteins, and reducing polyunsaturated fats, we can reduce inflammation, oxidative damage, DNA protein damage and more. We can also improve our mitochondrial function, which provides the energy for our cells to function, repair themselves, support our immune system, increase our metabolism, and avoid aging diseases. Learn how to "hack" into your system to make our cells work better by turning on the right genes and turning off the bad ones.
3 PM: Lynn Rogers, prolific writer, artist and intuitive, speaks on "Ageless Creativity for the New Age." ("New Age Aging"). Lifespans are increasing, so we need to transform our attitudes about aging. We are pioneers in life extension not only physically, but mentally and spiritually. Lynn will discuss the ideas and research from her new book on how we can remain vital and creative in later years as never before.
4 PM: E. Alan Meece reviews information from the cosmic cycles on what has happened and what will happen in the future, with special attention on the presidential election this year and future years. "Eric" (E. Alan Meece) is writing a new book called Horoscope for the New Age. Eric published Horoscope for the New Millennium in 1997.
5 PM to 7 PM: UFO Panel with Ruben Uriarte, Northern California MUFON ( Mutual UFO Network) State Director, Nancy Felipe, MUFON State Section Director & Field Investigator, and Lester Velez, Vice President for OPUS (Organization for Paranormal and Understanding and Support) will be discussing sighting and abduction cases that demonstrate that We Are Not Alone and that we are being visited by extraterrestrials.


---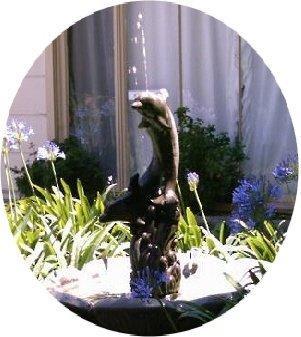 From local areas of San Jose, take Meridian Ave. to Hamilton Ave, go east about 4 blocks. Turn left at Hicks. Go about 4 blocks. The Community is on your right at 1540 Hicks Ave. You can also travel on Minnesota Ave. and turn southbound onto Hicks; the Center is then 4 blocks down on your left.
From Almaden Expressway or Highway 87, go west on Curtner; right on Meridian; right on Hamilton; left on Hicks. If you spot it, you can also turn right on Hicks from Curtner and go directly north to the Community.
From Highway 17 and 880, going south, take Hamilton Ave. exit. At the intersection, turn left (go east), go about 2 miles to Hicks Ave. Turn left and go about 4 blocks. We are on your right. Park along Hicks Ave, or if you're early and there's still room, try our parking lot in back (entrance just past the Community buildings).
From Highway 17, from Santa Cruz/Los Gatos: exit Hamilton. Stay to the right. Turn left at first light, then right onto Hamilton, and go east about 2 miles to Hicks, turn left and go about 4 blocks.
From Highway 280 (San Francisco, Peninsula): take Highway 17 (Santa Cruz exit) south to next exit (Hamilton); after exiting the freeway, turn left/east onto Hamilton, and go 2 miles to Hicks; turn left and go about 4 blocks.
From Highway 85: take Highway 17 north towards San Jose; exit Hamilton. Stay to the right. Turn left at first light, then right onto Hamilton, and go east about 2 miles to Hicks, turn left.
From 880 going south, continue south past 280 onto 17, take Hamilton exit; east about 2 miles to Hicks, turn left.
From 101, exit Highway 880 towards San Jose/Santa Cruz; take Hamilton, east about 2 miles to Hicks, turn left.
From 101 from Gilroy/Morgan Hill and points south, exit Highway 85. See above, OR: from 85, take Highway 87 north to Downtown San Jose. Exit Curtner, and travel west (left) about a mile and a half, past Cherry. Right on Hicks. The Center is past Hamilton/Pine on your right.
FYI: From Hamilton Ave. going east: once past Meridian, you can also take the next left onto Hamilton Way, and turn left at Hicks; that way is shorter (but the street has speed bumps).
Buses: Take Line 82 to Pine/Hamilton and Hicks, or Line 63 to Meridian and Hamilton. For customer service and scheduling call (408)321-2300. Community bus 65 goes from downtown San Jose south, and stops at Leigh and Hamilton, about 3/4 mile west of the Community of Infinite Spirit. Walk east on Hamilton, on north side of street, past Meridian; then verging left at Hamilton Way and again at Hicks.
There is a small bike rack in the southwest corner of the parking lot in back.

---
See list of hotels and motels in the area, and
click here for list of near-by restaurants
The first Holistic Arts Fair was held Nov.21-22, 1998 at San Jose City College. We had some 60 exhibitors, 40 speakers, and about 500 people attending. Exhibitors reported good results from our smaller second Fair on Sept.23-24, 2000 at Divine Science Community Center, and our third there on Sept.22-23, 2001, and all attendees enjoyed our wonderful program.
Attendance was higher in 2002 (Sept.21-22), 2003 (Sept.20-21), and especially in 2004 (Sept.25-26), and most of our booth spaces were filled. Business was good at our event in 2005 (Oct.1&2); and attendance was up in 2006 (Sept.23-24), and in 2007 (Sept.22-23, despite the rain on Saturday!) and 2008 (Sept.27-28). By 2009 we had almost 50 exhibitors. In 2010 we were joined at the Divine Science Center by the new Metaphysical Pathways Fairs in July and November, and its successor Fair in Feb.2013. They helped inspire me to modify the floorplan to include indoor exhibit spaces in the sanctuary for the first time in 2012, which was successful, and attendance increased in 2012, and in 2013 (and again in 2014, 2015 and 2016) we almost filled all of our spaces up for the first time. After the Fair in 2012, I voted along with the other members to change the name of the Center to Community of Infinite Spirit. In 2014 Community of Infinite Spirit, inspired by the success of our Fair, produced its own Fair on March 15 called the Soulful Living Arts Fair, and it went very well. The next Soulful Living Arts Fair is March 18, 2017. The Holistic Arts Fair continues the 16 year tradition of the New Age Renaissance Fair, from 1982 to 1997, which attracted 1500 to 5000 people each year, about 200 exhibitors, and dozens of speakers and performers over the years.
We have scaled back the size of our event from the days of the New Age Renaissance Fair of the 1990s. We have designed this new approach so that it will work better for our exhibitors and be more accessible to the public. We need the support of the people in our area, so please attend our event and support our exhibitors! The Holistic Arts Fair and the New Age Renaissance Fair have been given good publicity over the years, and we have always gotten great support from many exhibitors. I continue to express my deep admiration for the people in the holistic and new age fields who have offered themselves and their work. I also want to thank the many local businesses who have helped us by putting out our flyers for their customers these many years. It is up to the people to create a new age and holistic renaissance, and to support public events like this which are necessary for it to happen.
Watch for updates on future events.
---
If you need any further information about the Holistic Arts Fair, or would like to help or support any of our events, or join HAFA, you can email the Producer.

---
The Holistic Arts Fair is produced by the Holistic Arts Fair Association, a non-profit educational organization. A portion of booth fees will be donated to charities decided upon by our Board of Directors. Being non-profit and having low labor and rent costs, most of the exhibit fees we collect go for promotion. Our silent auction is a benefit for Community of Infinite Spirit.
HOLISTIC ARTS FAIR ASSOCIATION (HAFA)
HAFA Board of Directors as of Oct. 2016: Tony McGettigan, Paula Nunes, Eric Meece (CEO).
CEO: Eric A. Meece
Secretary: Paula Nunes, Treasurer: Tony McGettigan
Special thanks to Rev. Christine Emmerling of Community of Infinite Spirit, and our HAFA Board of Directors.
Banner by Greg Martin. Updating by Rev. Christine
Flyer and poster by Joseph Martin. Sound: Robert Perala. Promotional help: Sheree Garrett.
Thanks to volunteers helping at the Fair:
2016: Gene Turner, Vivian Martin, San Jose students
2015: Gene Turner, Val Vitols, Cheryl Magill, Albert Pagen, Juanita Vargas.
2014: Taiyo Matsunaga, Gene Turner, Rich Rios, Tom Dragosavac.
2013: Rich Rios, Mona Angel Wells, Gene Turner, Vivian Martin, Tom Dragosavac.
2012: Rich Rios, Gene Turner, Tom Dragosavac, David Brubaker, John Hoskings, Tom Chavarria.
2011: Rich Rios, David Brubaker, Gene Turner, Tom Dragosavac, Bobbi Peterson.
2010: Gene Turner, Bobbi Peterson, Tom Dragosavac, Mona Angel Wells, Tom Chavarria.
2009: Gene Turner, David Stafford, Tom Dragosavac, etc.
2008: Gene Turner, David Stafford, Kash, Michael Berry, Tom Dragosavac.
2007: Gene Turner, Joseph Leight, David Stafford.
2006: Joseph Leight, Mona Angel Wells, Gene Turner.
2005: Gene Turner, Mona Angel Wells, Tom Dragosavac.
2004: Robert Perala, Joseph Leight, Gene Turner, Tony McGettigan.
2003: Ron Hart, Jeff Norment, Joseph Leight, Robert Perala, Cathy Cunningham.
2002: Jeff Norment, Tony McGettigan and Gene Turner.
2001: Jeff Norment, Michael Berry, Tony McGettigan, Rev. Christine, Paula Nunes, Andrew Mount.
2000: Tony McGettigan, Rev. Christine Emmerling, Michael Berry, and Dean Price of Sacred Productions.

I appreciate those who worked at our first event in 1998 too: Marquis Valentine, Mark Hutsell, Rodney Birkett, John Clarke, Kenny Elvin, Tony McGettigan, James Downer, Eve Page Matthias.
Special thanks to: Eve Page Matthias, Michael Caligari and Judy Rookstool, from San Jose City College, for hosting our Fair in 1998.
Special recognition: to Tajalli, and to Crowman: thank you for your loving presence all these years. We miss you, but we know you both are with us in Spirit.

BACK TO TOP
SPEAKERS AND MUSIC AT THE FAIR
EXHIBITORS AT THE FAIR
Information on exhibiting at the Fair
Application for a space at the Fair
see floorplan here
INTERESTING LINKS
HOROSCOPE FOR THE NEW MILLENNIUM
BACH, CHAKRAS, TAROT
Producer Eric Meece's homepage and Index/links
Paranormal Insights with Joseph Martin
Scott Catamas on Compassionate Communication on You Tube